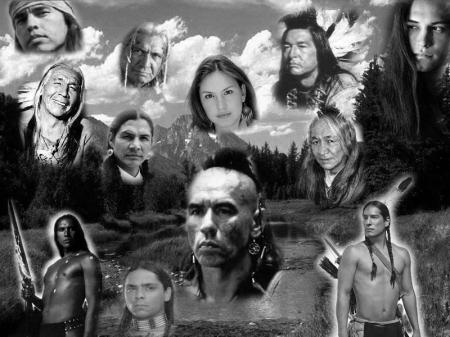 Des Indiens ont joués dans des films depuis l'époque du muet. Au début, on les utilisait surtout comme figurants ou dans des petits rôles. Quelques-uns cependant sont devenus des vedettes. En 1979, par exemple, Jay Silverheels à été le premier autochtone à se voir attribuer une étoile sur le fameux Walk of Fame ("Trottoir de la gloire") d'Hollywood. Depuis, des acteurs indiens comme Irene Bedard (Inupiat et Cree) ou Will Samson (Creek) Wes Studi (Cherokee) ont eu de grands rôles et atteint la notoriété à Hollywood et à la télévision.
Wes Studi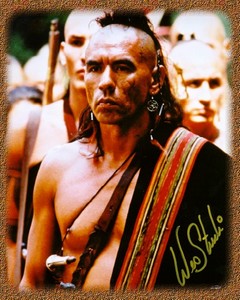 Né le17 Decembre 1947
à Nofire Hollow, Oklahoma, USA
De son vrai nom : Wesley Studie ,Taille : 1m 83 (6') Marié à : Rebecca Graves (1974 - divorcés), 2 enfants, Daniel et Leah
- Maura Dhu, 1 enfant, Kholan Biographie de Wes Studi
Wes Studi est né et a grandi à Nofire Hollow, dans l'Oklahoma. Membre du peuple Cherokee, il s'exprime volontiers dans sa langue maternelle - il n'a commencé à apprendre l'anglais qu'à l'âge de cinq ans, en allant à l'école.

Après de brèves études au lycée indien de Chilocco, dans l'Oklahoma, durant lesquelles il travaille dans une teinturerie pour vivre, il s'installe quelque temps à Tulsa avant de s'engager dans l'armée en 1967. Il servira au Vietnam, dans l'infanterie.

Six ans plus tard, il quitte l'armée avec les honneurs. Il décide de reprendre des études et s'investit parallèlement dans plusieurs mouvements de défense de la culture indienne, comme le National Indian Youth Council ou le American Indian Movement. Il participe au lancement d'un journal cherokee en 1975, puis à un programme télévisé d'éducation pour la Nebraska Educational Television.
Très attaché à sa langue maternelle, il enseigne cette langue dans plusieurs établissements de la communauté Cherokee. Il décide de consacrer sa vie au métier d'acteur en 1981 et entre à l'American Indian Theatre Company. Il joue plusieurs des pièces de la compagnie, dont «Black Elk Speaks» en 1984. Il monte par ailleurs et interprète à travers tous les États-Unis son propre one-man-show, Coyote Chews His Own Tale .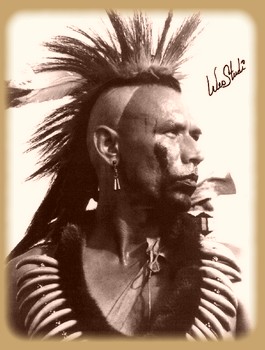 Il décide ensuite de s'installer à Los Angeles et y décroche rapidement un rôle d'Indien Cherokee dans le téléfilm Longarm . Il tournera par la suite plusieurs films publicitaires et dans la série Ned Blessing : Return To Plum Creek, créée par Bill Whitliff.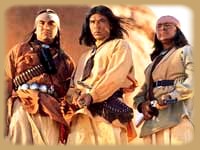 Il entreprend alors de suivre des cours afin de parfaire son jeu pour le cinéma, ce qui l'amène à tourner son premier long métrage, PowwowHighway(1988) Il interprète ensuite Magua dans Le Dernier des Mohicans (The Last of the Mohicans)(1992) de Michael Mann.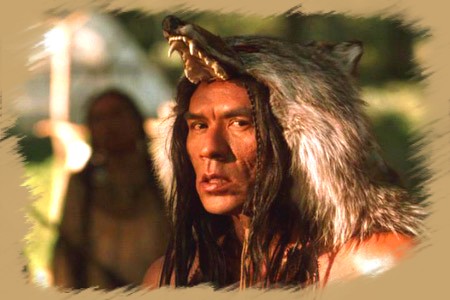 Sa performance lui valut d'être salué par la critique et le public. Il est également remarqué pour son interprétation d'un des féroces guerriers Pawnee du film de Kevin Costner, Danse avec les loups (Dances with Wolves)(1990) . Il est ensuite plébiscité pour son portrait du légendaire chef apache Géronimo sous la direction de Walter Hilldans Geronimo (Geronimo: An American Legend) (1993) .
Sa filmographie s'est enrichie depuis de films comme Street Fighter, l'ultime combat (Street Fighter)(1994) de Steven De Souza, Heat(1995) de Michael Mann, The Killing Jar d'Evan Crooke, Wind River(1998) deTom Shell, Un Cri dans l'océan (Deep Rising)(1998) de Stephen Sommers, Soundman de Steven Ho, Mystery Men (Mystery Men)(1999) de Kinka Usher, où il incarne le Sphinx, Christmas in the Clouds de Kate Montgomery, Road to Redemption de Robert Vernon. Il a retrouvé Walter Hillsur Un Seul deviendra invincible (Undisputed)2000.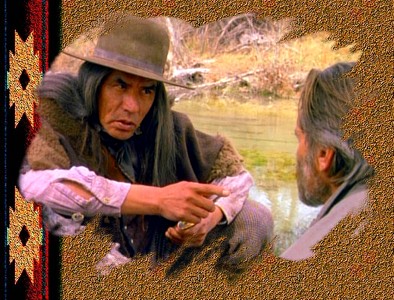 Filmographie:
Heat (1995) (Détective Casals)
Le Dernier des Mohicans (1992) (Magua)
Les Doors (1991) (les Indiens du désert)
Danse avec les loups (1990) (le Pawnee coriace)
Animal (2005) (Creeper)
Le Nouveau Monde (2004) (Opechancanough)
Alamo (2003) (Chef Bowl)
Un Seul deviendra invincible (2000) (Mingo 'Sixkiller' Pace)
Mystery Men (1999) (le Sphinx)
Un Cri dans l'Océan (1998) (Hanover)
Street Fighter, l'ultime combat (1994) (Victor Sagat)
Geronimo (1993) (Geronimo)
Crazy Horse (1996)(Red Cloud)
Wind River (1998) (Pocatello)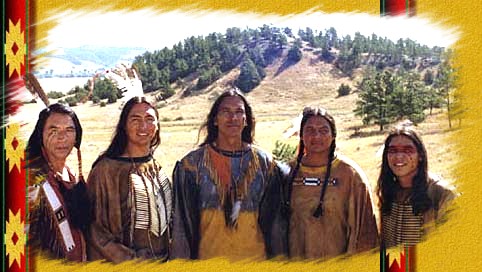 Wes Studi. Buffalo Child.Michael Greyeyes.Steve Reevis.Nathaniel Arcand.

Jimmy Herman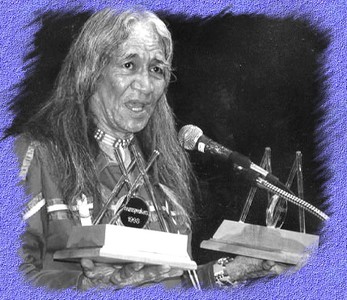 Jimmy Herman, acteur Amerindien, qui a tenu le premier rôle dans des films tels que danses avec les loups.En outre connu pour son rôle comme Joe Gomba dans la sérieNorth of 60 pour la télévision. Le modèles de perle floraux sur la veste de daim représentent son héritage de Cree et de Chipewyan.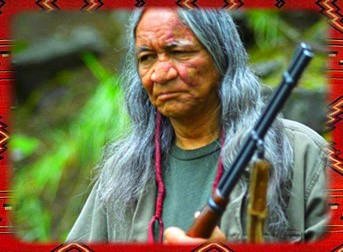 Wil Campbell, Jimmy Herman, August Schellenberg, Willie Dunn, Gordon Tootosis
Quelques films de Jimmy Herman
Danse avec les loups (1990) (Stone Calf)
Rédemption (2000)(les mineurs No. 3)
Piège fatal (1999) (un barman)
DreamKeeper (2003) (Multnomah Elder)
Coyote Waits (2003)(Ashie Pinto)
La Traque sauvage (1999)(unindien dans la foule)
Winnetous Rückkehr (1998)(Tah-Sha-Tunga)
Tecumseh: The Last Warrior (1995)(Cornstalk)
Warrior Spirit (1994) (Mukoki)

Jay Silverheels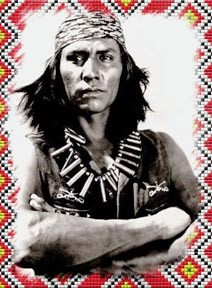 Jay Silverheels est un acteur canadien né le 26 mai 1912 à Six Nations Reservation (Canada)située près de Brantford, en Ontario, Harold Jay Smith (il a adopté le nom de scène de Jay Silverheels une fois arrivé à Hollywood) , décédé le 5 mars 1980 à Woodland Hills (Los Angeles).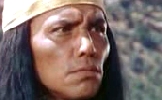 Il est l'un des premiers acteurs autochtones à avoir joué dans des séries d'émissions télévisées et des films américains (1912-1980)?
Après des années passées à jouer les figurants ou à interpréter de petits rôles, il a fini par tenir la vedette de plus de quarante films, depuis ses débuts en 1947 dans Capitaine de Castille. Son rôle le plus célèbre est sans doute celui qu'il tenait dans la télévisée Le justicier solitaire. Il y interprétait le personnage de Tonto, le loyal et ingénieux compagnon d'armes autochtone. Fervent défenseur des acteurs autochtones dans le cinéma américain à une époque les groupes minoritaires étaient habituellement interprétés par des acteurs blancs.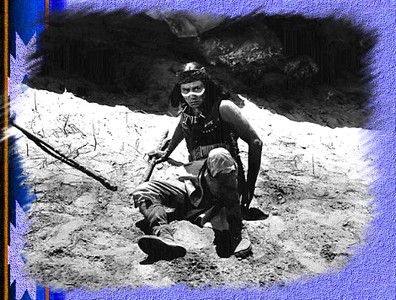 En 1979, par exemple, Jay Silverheels a été le premier autochtone à se voir attribuer une étoile sur le fameux Walk of Fame (« Trottoir de la Gloire ») d'Hollywood. Il avait fondé en 1963 un atelier d'acteurs pour permettre à plus d'autotchtones désireux d'embrasser une carrière dans le cinéma.. Depuis des acteurs indiens comme Irène Bedard (Cree), Will Samson (Creek) et surtout le chef Dan Geroge (un Salish de Colombie britannique) ont émergé. Ce dernier a même obtenu une nomination pour un Oscar (qu'il n'a pas reçu) pour son rôle d'Old Lodge Skins dans le film d'Arthu Penn, Little Big Man.
Filmographie: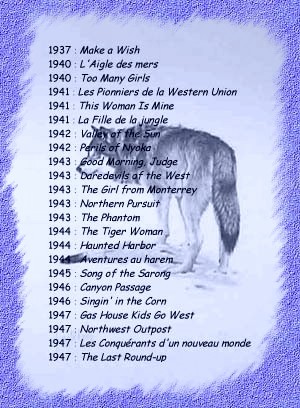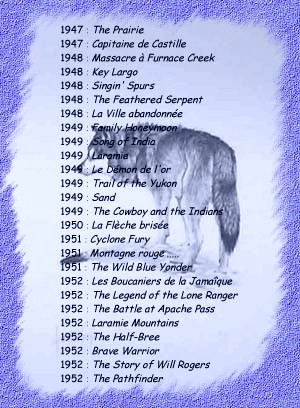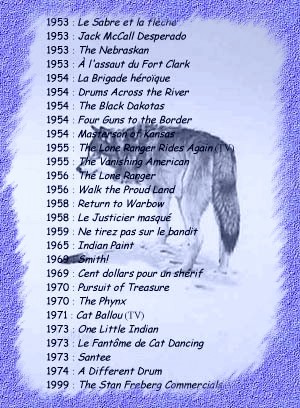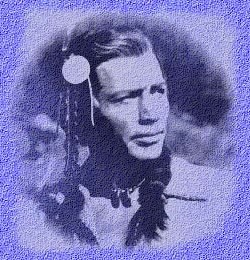 Chief Yowlachie (1891-1966)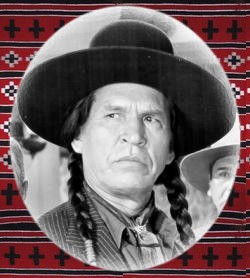 Chief Yowlachie est un acteur Native américan, Le vrai nom du chef Yowlachie était Daniel Simmons il est né le 15 août 1891 dans la réserve indienne de Yakama (État de Washington), mort le 7 mars 1966 à Los Angeles (Californie).

Il suit des cours de chant classique et débute sa carrière comme chanteur d'opéra avant de se tourner vers le cinéma. Ses films débutent au milieu des années 1920, jouant des rôles indiens dans des flûtes silencieuses .Yowlachie a joué des rôles «décalés» et différents, "dans la série FLASH GORDON CONQUERENT L'UNIVERS (Universal, 1940).

On peut se souvenir de lui comme l'aide-cuisinier qui gagne au poker le dentier de son patron : Walter Brennan dans le superbe western de Howard Hawks : La rivière rouge. On le voit dans de très nombreux films dont : Kentucky days, son premier film en 1923, La tigresse, Les tuniques écarlates, Le démon de la chair, Les pionniers de la Louisiane, Le petit train du Far-West, Winchester 73, Le sentier de l'enfer, The pathfinder, La police fédérale enquête, La diablesse en collant rose son dernier film en 1960. Il a aussi tourné pour la TV (En particulier dans le rôle de Geronimo dans : Story of the century)
Cinéma
1925 : Tonio, Son of the Sierras de Ben F. Wilson : Tonio
1926 : Moran of the Mounted d'Harry Joe Brown : Biting Wolf
1926 : War Paint de W. S. Van Dyke : Iron Eyes
1926 : La Lettre écarlate (The Scarlet Letter) de Victor Sjöström : L'indien avec Roger Prynne
1926 : Forlorn River de John Waters : Modoc Joe
1926 : Ella Cinders d'Alfred E. Green : Un indien
1927 : The Red Raiders d'Albert S. Rogell : Lone Wolf
1927 : Sitting Bull at the Spirit Lake Massacre de Robert N. Bradbury : Sitting Bull
1927 : Hawk of the Hills de Spencer Gordon Bennet (serial) : Chief Long Hand
1928 : The Glorious Trail d'Harry Joe Brown et Albert S. Rogell : High Wolf
1930 : The Girl of the Golden West de John Francis Dillon : Billy Jackrabbit
1930 : The Santa Fe Trail d'Otto Brower et Edwin H. Knopf : Brown Beaver
1939 : Man of Conquest de George Nichols Jr. : Un cherokee
1940 : Flash Gordon Conquers the Universe de Ford Beebe et Ray Taylor (serial) : Le roi du peuple de pierre
1940 : Les Tuniques écarlates (Northwest Mounted Police) de Cecil B. DeMille : Un indien
1940 : Winners of the West de Ford Beebe et Ray Taylor (serial) : Chief War Eagle
1941 : Révolte au large (This Woman is Mine) de Frank Lloyd : Chief One-Eye Comcomly
1941 : White Eagle de James W. Horne (serial) : Chief Running Dear
1943 : Frontier Fury de William Berke : Un indien capturé
1946 : Le Passage du canyon (Canyon Passage) de Jacques Tourneur : Le porte-parole indien
1946 : Le Démon de la chair (The Strange Woman) d'Edgar G. Ulmer : Le guide indien
1947 : Oregon Trail Scouts de R. G. Springsteen : Red Skin
1947 : Marchands d'illusions (The Hucksters) de Jack Conway : Un indien
1947 : Bowery Buckaroos de William Beaudine : Big Chief Hi-Octane
1947 : Les Pionniers de la Louisiane (The Prairie) de Frank Wisbar : Matoreeh
1947 : The Senator Was Indiscreet de George S. Kaufman : Un indien
1948 : Visage pâle (The Paleface) de Norman Z. McLeod : Chief Yellow Feather
1948 : Le Bourgeois téméraire (The Dude Goes West) de Kurt Neumann : Running Wolf
1948 : La Ville abandonnée (Yellow Sky) de William A. Wellman : Colorado
1948 : La Rivière rouge (Red River) d'Howard Hawks : Quo
1949 : Ma and Pa Kettle de Charles Lamont : Crowbar
1949 : El Paso, ville sans loi (El Paso) de Lewis R. Foster : Paiute Pete
1949 : Tulsa de Stuart Heisler : Charlie Lightfoot
1949 : Une femme dans le Grand Nord (Mrs. Mike) de Louis King : Atenou
1949 : The Cowboy and the Indians de John English : Chief Long Arrow
1950 : The Traveling Saleswoman de Charles Reisner : Sam
1950 : Annie, la reine du cirque (Annie Get Your Gun) de George Sidney : Little Horse
1950 : Irma à Hollywood (My Friend Irma Goes West) d'Hal Walker : Le chef Hiawatha
1950 : Young Daniel Boone de Reginald Le Borg : Le guide indien
1950 : Le Petit Train du Far West (A Ticket to Tomahawk) de Richard Sale : un pawnee
1950 : Cherokee Uprising de Lewis D. Collins : Gray Eagle
1950 : Winchester '73 d'Anthony Mann : L'indien au concours de tir
1951 : La Revanche de Lassie (The Painted Hills) d'Harold F. Kress : Bald Eagle
1951 : Le Dernier Bastion (The Last Outpost) de Lewis R. Foster : Cochise
1951 : Le Sentier de l'enfer (Warpath) de Byron Haskin : Le chef indien
1952 : L'Étoile du destin (Lone Star) de Vincent Sherman : Mangus Colorado
1952 : Le Trappeur des grands lacs (The Pathfinder) de Sidney Salkow : Eagle Feather
1952 : La Peur du scalp (The Half-Breed) de Stuart Gilmore : Le chef apache
1952 : Les Diables de l'Oklahoma (Thunderbirds) de John H. Auer : Chief Whitedeer
1952 : Buffalo Bill in Tomahawk Territory de Bernard B. Ray : White Cloud
1954 : La Rivière sanglante (Drums Across the River) de Nathan Juran : Le sorcier
1954 : Rose Marie de Mervyn LeRoy : Black Eagle
1954 : Gunfighters of the Northwest de Spencer Gordon Bennet et Charles S. Gould (serial) : Chief Running Elk
1956 : Un vrai cinglé de cinéma (Hollywood of Bust) de Frank Tashlin : Chief Running Water
1956 : The Wild Dakotas de Sigmund Neufeld et Sam Newfield : Chief Arrow
1957 : L'Odyssée de Charles Lindbergh (The Spirit of St. Louis) de Billy Wilder : Un indien
1958 : Les Boucaniers (The Buccaneer) d'Anthony Quinn : un indien choctaw
1959 : La police fédérale enquête (The FBI Story) de Mervyn LeRoy : Harry Willowtree
1959 : Le Géant du Grand Nord (Yellowstone Kelly) de Gordon Douglas : Le sorcier
1960 : La Diablesse en collant rose (Heller in Pink Tights) de George Cukor : Un indien
1966 : Nevada Smith d'Henry Hathaway : Le sorcier
Séries télévisées
1949 : The Lone Ranger
Saison 1, épisode 6 War Horse : Chief Lame Bear
1954 : Histoires du siècle dernier (Stories of the Century)
Saison 1, épisode 4 Geronimo de William Witney : Geronimo
1956 : Rintintin (The Adventures of Rin Tin Tin')
Saison 2, épisode 37 Lost Treasure : Kipooki
Saison 3, épisode 9 Boone's Grandpappy : Takima
1964 : Le Virginien (The Virginian)
Saison 2, épisode 25 Ropes of Lies d'Herschel Daugherty : L'indien brave
Page suivante 2.stars amerindiennes