Le Programme "Adopt-A-Native-Elder" existe afin de créer un Pont d'Espoir entre les Natifs Américains et les autres nations. Il permet de créer une entraide , basée sur le partage des dons, et de réparer le cercle brisé de notre relation avec la Terre et avec les Amérindiens, qui voient cette relation comme un devoir sacré....  Plus d'informations ICI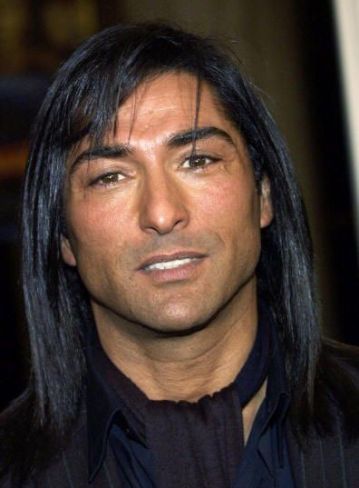 JAY TAVARE
                                   http://www.jaytavare.com/
L'acteur amérindien Jay Tavare s'implique dans plusieurs causes caritatives chères à son cœur, comme le programme « Adopt-a-Native-Elder »,
et aussi en faveur des Samoyèdes, une race de chiens-loups.
Jay Tavare voit le jour dans la réserve Navajo d'Arizona. C'est un Natif des Usa, Apache White Mountain et Navajo, avec des origines Latines.
Il vient de courir le marathon de Los Angeles afin de récolter des fonds pour ce programme
Voici ses impressions (texte en français et anglais) :
It was 4:30 am when I woke up to get ready for the 24th annual LA
Marathon... It was a cold morning, 59' F... at least for us here in
southern California, a good sign if you gonna run your body 26.2
miles or 42 gurgling kilometers!!!!
Il était 4h30 quand je me suis réveillé pour me préparer au 24ème
Marathon annuel de Los Angelès ... C'était un matin froid, 15° .. au
moins pour nous ici dans la Californie du sud, un bon signe si vous
devez diriger votre corps pour 42 kilomètres.

Although I had only trained for 4 weeks and never had taken a run
longer than 6 to 10 miles, I was still excited and worried about the
unknown factor in a race that truly test the limits of the human
endurance.
Bien que je me sois seulement entraîné depuis 4 semaines et n'ai
jamais fait de course plus longue que de 6 à 10 miles, j'étais
toujours excité et me suis inquiété au sujet du facteur inconnu dans
une course qui évalue vraiment les limites de l'endurance de l'humain

What had started off as a challenge by my friend Diann to run this
years Marathon, had turned into something much bigger... After my
initial post about the event, so many people had responded and many
even sponsored me to run it, so I could raise money for Adopt A
Native Elder Program...( www.anelder.org )
Ce qui a commencé comme un défi par mon ami Diann pour parcourir
le Marathon depuis des années, s'était transformé en quelque chose
de beaucoup plus grand... Après mon premier article sur l'événement,
beaucoup de personnes ont répondu et beaucoup
même m'ont sponsorisé pour le courir, j'ai donc pu rassembler les fonds
pour Adopt A Native Elder Program...( www.anelder.org )

So as I arrived in down town LA on the morning of May 25, with
17,000 other people from all over the world, as some fly in just to
run this race. The pressure was on to finish what I had started. The
excitement and the pre race jitters were palatable, as the LA Mayor
Antonio Villaraigosa gave us the final pep talk and then the bull
horn signaled the start of the race...
Puis je suis arrivé en bas de la ville de LA le matin du 25 mai, avec
17.000 autres personnes de partout dans le monde. La pression commençait à se faire ressentir. L'excitation et les vibrations de course
étaient agréables, comme le dialogue du Maire de L.A. Antonio
Villaraigosa Juste avant le départ donné par la corne du début de
course.

What an amazing site to see 1000's of runners from all ages, running
shoulder to shoulder for the first mile, some dressed in customs to
get more attention for their cause. As I ran past a man dressed as a
large hairy testicle that read, Testicular Cancer I realized I was
not the only one running for a higher reason.
Quelle vision incroyable de voir les milliers de coureurs de tous les
âges, courant épaule contre épaule au premier kilomètre,
certains habillés selon leurs coutumes (ou selon leurs causes) pour recevoir plus
d'attention pour leur cause. Comme j'ai vu courir devant un homme
habillé comme un grand testicule poilu où l'on pouvait lire, le Cancer
des Testicules. Je me suis rendu compte que je n'étais pas le seul à
courir pour une plus haute raison.

The first mile came up so fast that I only realized it when a cheeky
spectators had a sign that read... only 25.2 more to go. :)
Le premier mile s'est terminé si vite que je l'ai seulement réalisé
quand des spectateurs effrontés avaient une pancarte qui disait ...
seulement 25.2 de plus à courir.

I looked at my stop watch and realized I was running way too fast,
at 8:30 mile pace, but the excitement of the race had got the better
of me... I looked to my running partner who was by my side, and she
was shocked too, but we felt awesome so we kept going. At 10 K or 6
miles we were still running at a sub 4:00 hour Marathon pace which
is about 9:00 min miles per hour, way faster than we had planned to
start the race, but I felt so at ease and hardly out of breath, so
we pushed on...
J'ai regardé ma montre et me suis rendu compte que je courais trop vite,
à 8:30 le pas de mile, mais l'excitation de la course me faisait donner le meilleur de moi-même... J'ai regardé ma partenaire de course à pied qui était à mes
côtés et elle a été surprise aussi, mais nous nous sentions vraiment bien donc nous avons continué à courir. Nous courrions plus vite que prévu , mais je me suis senti si à l'aise et à
peine essoufflé, donc nous avons persévéré

As we ran through areas in Los Angeles that I had never seen, I was
thinking this can't last, cause the longest run I had done in the
last month was 6 miles...!!! I knew the wall that every runner talks
about, was waiting for me somewhere ahead of me...
Comme nous avons parcouru des régions à Los Angeles que je n'avais
jamais vu, je croyais que cela ne peut pas durer, provoquer la plus
longue course que j'avais faite dans le mois dernier était de 6 miles
...!!! Je connaissais le mur dont chaque coureur parle, m'attendait
quelque part devant moi

A 30 K, I was still running at a 4 hour 14 min Marathon pace!!!!
My partner had fallen back a little by this stage and I did not want
to lose her, she was running for my cause and I felt she needed my
support, so I eased off my pace a tad and waited to see if I see
her... She is six feet tall with very shapely legs so finding her
in the crowd was not that hard... she caught up with me by mile 20,
which is when I had the most painful cramps in both my thighs... I
tried to run through it but the pain was unbearable... I stopped
for a moment as Diann who herself was suffering from
multiple-blisters on her feet and a stomach pain, worked on my
thighs trying to help me.
A 30 kms Je dirigeais toujours à 4 heure 14 mns en marathon !!!!
Ma partenaire était un peu à l'arriere à ce stade
et j'ai ralentit ne voulant pas la perdre, elle courait pour ma
cause et j'ai senti qu'elle avait besoin de mon soutien, donc j'ai
ralenti mon pas j'ai attendu pour voir si Je la voyais... Elle a les
pieds et jambes très bien proportionnées et il n'était donc pas difficile de la reconnaitre dans la foule... elle m'a rattrapé au 20 miles, là j'avais les
crampes les plus pénibles dans les deux mes cuisses... J'ai essayé
de passer outre mais la douleur était insupportable... Je me suis
arrêté un au meme moment où Diann souffrait d'ampoules
multiples aux pieds et une douleur à l'estomac, j'ai massé mes cuisses pour essayer de vaincre la douleur.

I put on my head phones and started a Navajo healing chant, my mind
drifted to the fact I may not be able to finish the race... I was
only 4-5 miles from the finish line and my time was extremely good
for a first time runner with no training...
J'ai mis mes écouteurs et j'ai commencé un chant Navajo de
guérison, mon esprit commencait à se faire au fait que je ne pourrai pas être
en mesure de finir la course... J'étais seulement 4-5 miles de la
ligne d'arrivée et mon temps était extrêmement bon pour un coureur sans entraînement

But as I heard the ancient chants I remembered the text I got from
the Linda Myers the founder of the Adopt A Native Elder program...
she informed me that the Big Mountain Elders went to the pine trees
to make an offering for me to have strength on my race... I also
remembered how the pain is temporary but honor lives forever... so I
stood up and hobbled forward as fast as I could... I saw a channel 4
NBC news cast so I approached them for an interview...
Mais comme j'ai entendu les chants anciens je me suis souvenu du texte de
Linda Myers la fondatrice d' Adopter A Native Elder Program
elle m'a informé que les Grands Anciens de la Montagne sont allés à la clairiere des pins
faire une offrande pour moi pour que je puisse trouver la force de faire cette course...
Je me suis aussi souvenu que la douleur est temporaire,
mais que l'honneur vit pour toujours ...
donc je me suis levé et j'ai boitillé en avançant aussi
vite que possible... J'ai vu les membres de la chaine 4 de BBC donc je me suis approché
d'eux pour une interview

The next 4 miles were a test of my character, for I had hit the wall
and my body was shutting down fast... I was paying for the earlier
pace, a common novice mistake...but I reminded myself that the flesh
is weaker than the spirit and drove on...
les 4 miles suivants étaient une épreuve pour moi, car j'avais reussi à vaincre ce fameux mur (cette épreuve) et mon corps commençait à faiblir... Je payais pour les km parcourus plus tot, une faute de
novice commune ... mais je me suis rappelé que la chair
est plus faible que c'est l'esprit qui m'a dirigé...

With a mile to go I looked at Diann and with so many people cheering
on, we both started to run again through our painful injuries...
Il y avait encore un mile à parcourir et j'ai regardé Diann
et toutes les personnes qui criaient (nous acclamaient) ,
nous avons recommencé à courir de nouveau malgré nos
blessures pénibles

The last half mile we raced home as fast as we could to finish in
5:15:46 seconds.
La dernière moitié du mile nous avons couru aussi vite que nous
pouvions pour finir dans
5:15:46 secondes.
Although I was disappointed with my time, which also included
stopping for two 10 min interviews... I realized it did not really
matter... for it's not the journey or the destination in the end...
but what we become in going through with it !!!!
Bien que j'ai été déçu de mon temps, qui a aussi inclus
l'arrêt pour deux interviews de 10 minutes... Je me suis rendu compte
que ce n'était pas çà le plus important... car ce n'est pas la destination qui compte mais le voyage que nous avions parcouru !!!

I want to thank all the generous people from all over the world who
supported me with donations and love and no matter how small the
amount it all counts. Please help me to spread the news about this
amazing program... Adopt A Native Elder is much more than a charity
and I beg all of you who can attend to come to one of the rug shows
that are held each year in Park City Utah in Nov.
Je veux remercier tous les gens généreux de partout dans le monde qui
m'ont soutenu avec les donations et leur amour et peu importe si vous n'avez pu donner qu'une petite somme. Aidez-moi s'il vous plaît à répendre les nouvelles de ce
programme incroyable... Adopt a Native Elder Program est beaucoup plus qu'une oeuvre de charité
et je prie chacun d'entre vous de venir à un des
spectacles qui se tiennent chaque année dans le Park City (Utah) en Novembre.

In closing I must say... Today I can hardly walk but my pain has a
sweet side... as I know it was all worth it...With all my heart...JT
En conclusion je dois dire... Aujourd'hui je peux à peine marcher
mais ma douleur a
un côté doux ... parce je sais quel était la valeur de tout cela...
Avec tout mon coeur... JT
site officiel
http://www.jaytavare.com/

 Le site du projet  « Adopt-A-Native-Elder Programm » http://www.anelder.org/
et avec l'aide de Perrine Nolf 



LA COURSE CONTINUE VOUS DEVEZ PASSER CE LIEN A UN GRAND NOMBRE, ET SI POSSIBLE AIDER AU PASSAGE...
Merci pour votre soutein Patricia et Tonio

Page suivante Sacheen Littlefeather